Späť
Zoomfab Newsletter 2022/2 - Capacity, Control and Productivity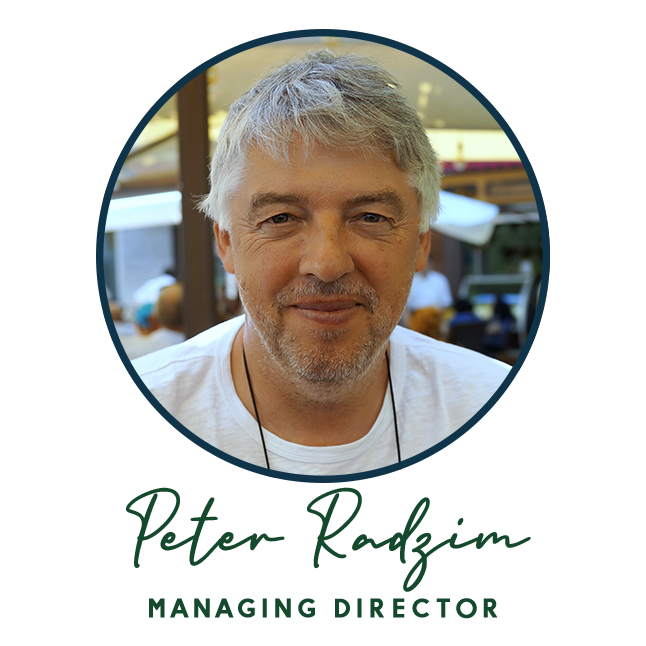 When I started my sheet metal job shop, I had no money (sounds familiar?), and I had to borrow it initially. So, I had to choose wisely what machinery I purchased. My initial focus was on functionality, ensuring I could do the work, and then on capacity so I could handle the volumes I dreamed about.
As business was growing, we needed more machines. Capacity and reliability have become a focal point of our interest, with new functionalities being less critical. We always bought the best equipment we could find and never regretted spending the extra money. This philosophy always worked out and gave us the edge against the competition.
As the business has grown further, more factors were added to the complexity of running our job shop. There were more people, smaller volumes, a wider variety of work and more demanding customers. As a result, I had less time to manage the business and started to depend on intuition rather than facts. Quite a typical progression with a growing company! I wish we had ZOOMFAB at that time. Why?
Firstly, it is about being in control.
In my days, we had no real-time visibility and no useful analytics to understand the impact of our decisions.
Today's ZOOMFAB does that exceptionally well. It shows real-time machine status like setup, exceeded setup, unplanned interruptions, faults and up-to-the-minute machine utilization, which are essential for proactive management. It also provides daily, weekly and monthly utilization analytics with performance data which are necessary for the process of continuous improvement.
Secondly, it is about managing production capacity.
When we needed more capacity, we hired more people or purchased more machines. Yes, that gave us more capacity, but also more headaches. When we had less work, we started to panic. The last thing we wanted was to lose our valuable employees who we trained and became part of our team and our culture. In both cases, it became harder and harder to maintain productivity, directly impacting our production capacity and return on investment.
Luckily today, there is a third option, more economical and flexible, which will help you increase the production capacity of your existing resources. It is a ZOOMFAB.

We are introducing ZOOMFAB EDC3, our new generation 3 (GEN3) machine and work centre operator terminal.
Currently EDC3 terminal is available in 2 configurations:
EDC3
In this primary configuration, a terminal is used to
collect the data machine can't provide (setup period, unplanned interruptions and causes)
warn operator about exceeding planned setup time
display daily up-to-the-minute machine utilization profile
provide communication with the supervisor
record special events
EDC3+
In this configuration, EDC+ expands the functions of basic EDC3 by also collecting job-related data. This data can be exported in Excel or sent directly to MRP or ERP system.

ZOOMFAB provides clear and accurate information about the machine state. It shows when machine is operating, being setup, setup time is exceeded, operation has been interrupted or the machine is idling. This incredibly valuable data will help businesses reduce machine downtime and increase capacity.
So, how can you address the four issues stopping you from effectively utilizing your machines?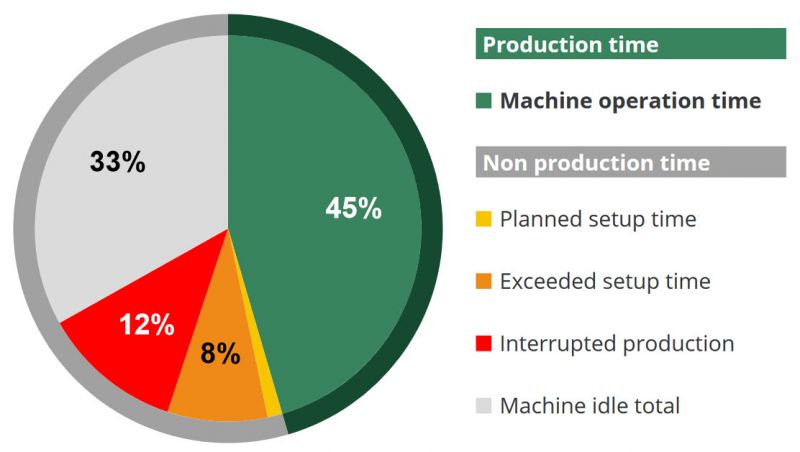 1. Planned machine setup time
Reduce it by retraining machine operators, replacing damaged tooling, introducing tool changers.
2. Unplanned (exceeded) machine setup time
Review your setup time estimates, organization, discipline, tooling condition, drawings, instructions and NC programming.
3. Production interruptions due to machine or tooling breakdown
Regularly maintain and calibrate your machines and tools, upgrade or replace old or unreliable equipment.
4. Idle time
If your equipment is underutilized, it is mainly due to bad management or discipline. However, if your workload is reduced, adjust your working hours accordingly so they are correctly reflected in machine utilization time and idle time does not included time outside of working hours.
ZOOMFAB is now available in 11 countries and nine languages, Poland being the latest.


IS THE SORTING DEVICE A BOOST FOR YOUR LASER CUTTING MACHINE?
ZOOMFAB monitors various laser cutting machines equipped with automated sorting systems. Below are graphs showing when the sorting device performs well and when it is holding back the laser.



Did you know that you can fit more content on your mobile or tablet? Portable devices don't offer as generous screen space as regular monitors. ZOOMFAB adapts page layout and contents size automatically for smaller screen sizes for better use experience. On the other hand screen resolution of portable devices many times exceeds monitor resolution. On some pages you may want to utilise the hight density and fit more information on the page. You can do it by changing scaling in browser. On iPad or iPhone tap the AA symbol in the address bar and adjust screen scaling to smaller. On some pages result may be significant. Use scaling that suites your needs.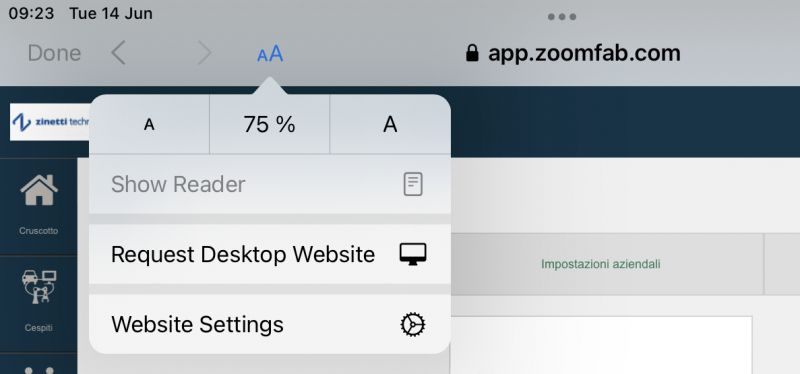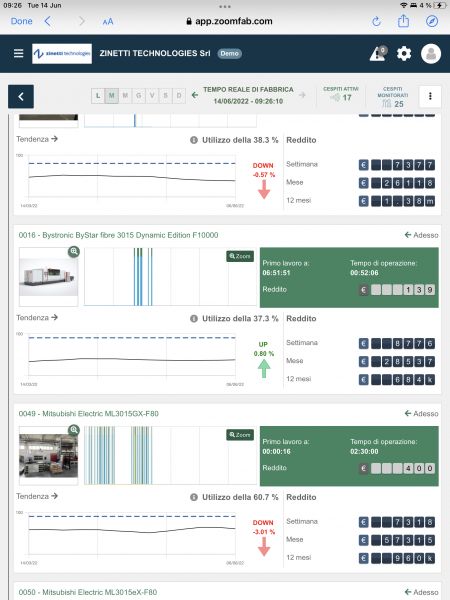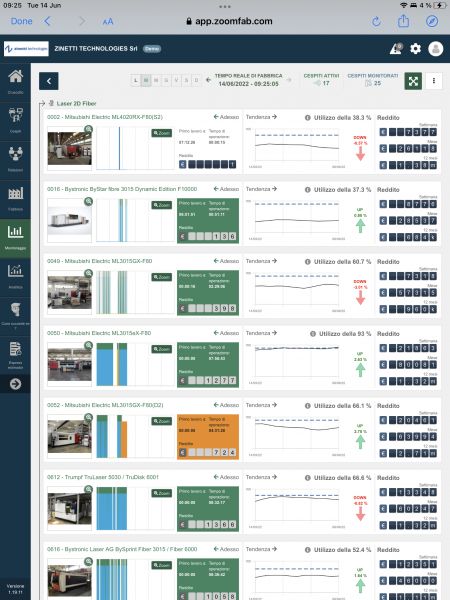 How ZOOMFAB® can help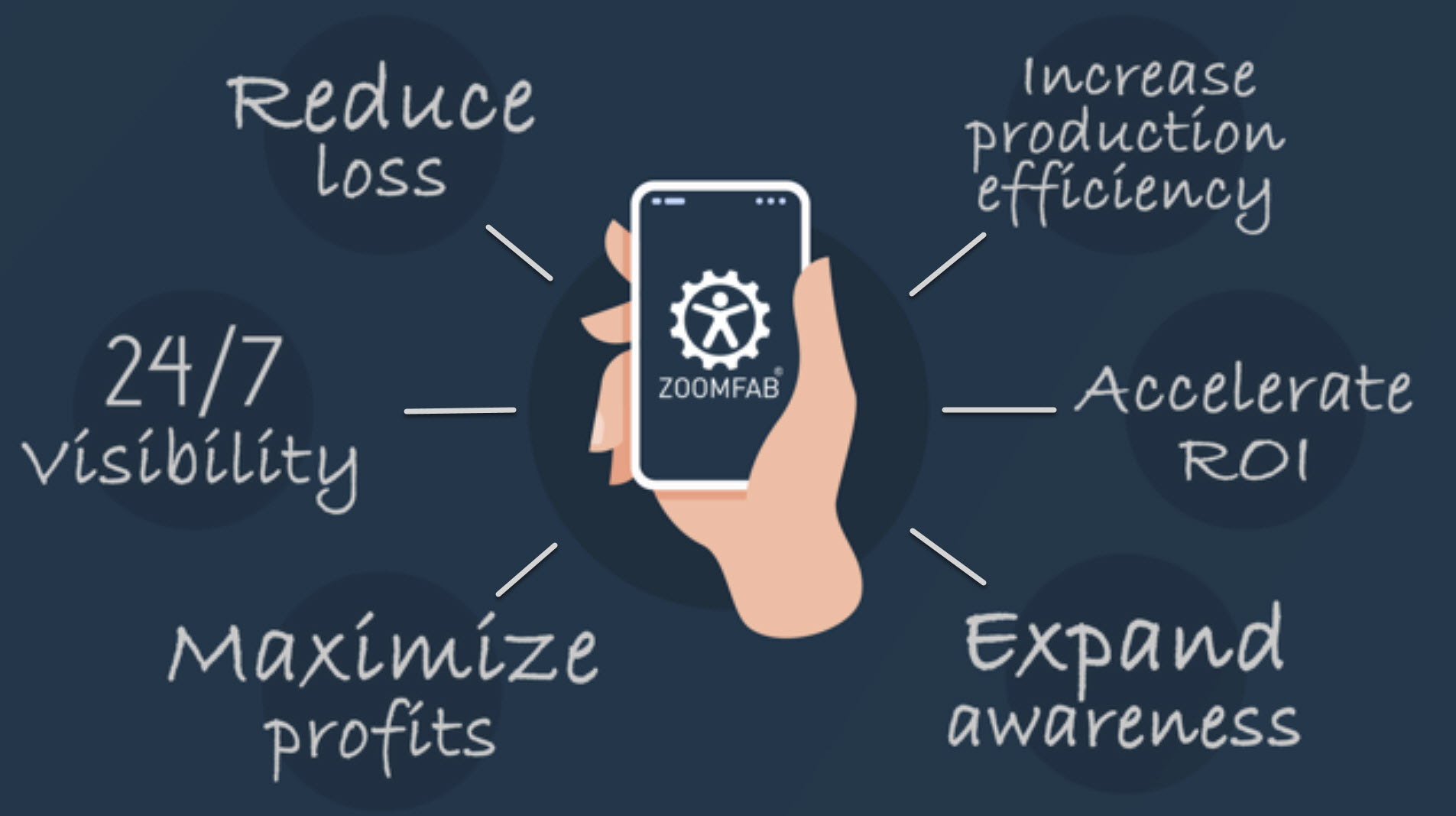 Copyright © 2021 ART PETRUS S.A.R.L., All rights reserved.
If you have any questions, please send an email to przoomfab.com